SEO Expert and Web Developer required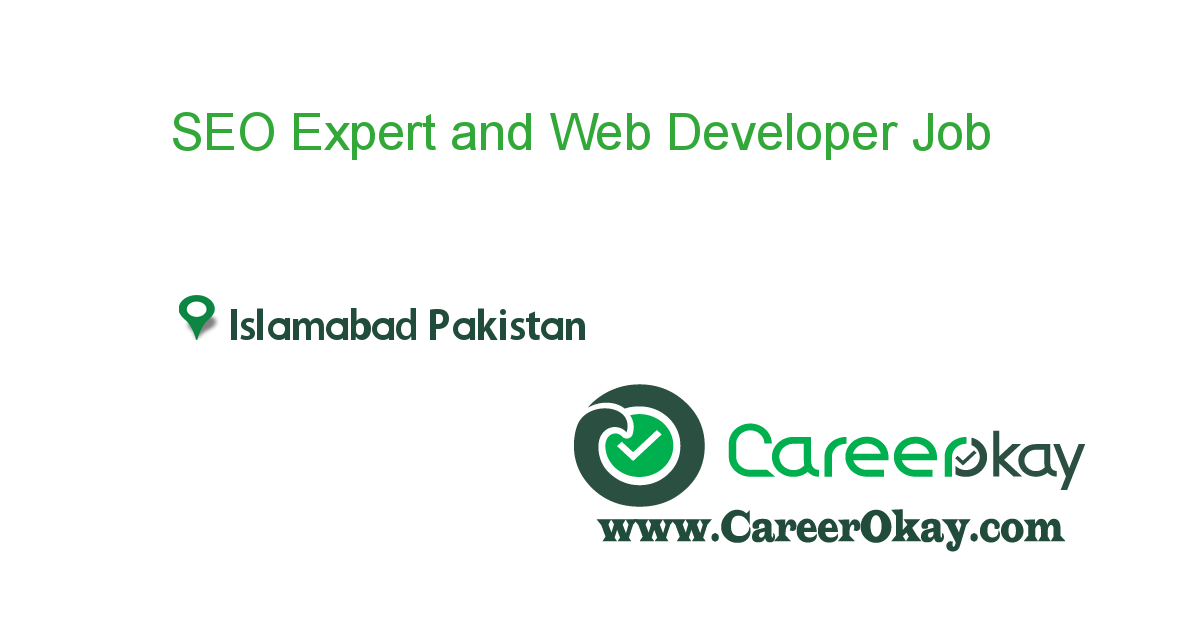 Location: Islamabad - Pakistan
Salary: 60k - 120k ( PKR )
Experience: 3 Years
Shift Timings: Evening Shift
Job Type: Full-Time
Description: Job Description
As a Web Developer, you will be responsible for designing, developing, and maintaining websites and web applications that meet the needs of our organization and its users. Your expertise in web development technologies and programming languages will play a crucial role in creating user-friendly, visually appealing, and high-performance websites. Additionally, you will optimize websites for search engine optimization (SEO) to improve their visibility, organic traffic, and search engine rankings. You will collaborate with cross-functional teams to understand requirements, implement SEO best practices, and ensure the smooth functioning of our online presence.
Responsibilities:
Design and develop responsive websites and web applications using HTML, CSS, JavaScript, and other web development technologies.
Collaborate with designers and stakeholders to translate design concepts into functional, visually appealing, and user-friendly web interfaces.
Implement front-end and back-end functionalities, ensuring seamless integration and optimal performance.
Perform website maintenance and updates, including content management, bug fixing, and troubleshooting.
Optimize websites for speed, performance, and SEO best practices, including on-page optimization, metadata, and structured data.
Conduct keyword research to identify target keywords and integrate them strategically into website content and code.
Implement proper URL structure, header tags, and internal linking to enhance website crawlability and indexability.
Conduct website audits and implement technical SEO optimizations, such as XML sitemaps, robots.txt, and canonical tags.
Collaborate with content creators and marketers to ensure website content aligns with SEO strategies and keywords.
Stay updated with emerging web development trends, technologies, and SEO best practices to ensure continuous improvement and innovation.
Collaborate with cross-functional teams, including designers, content creators, and marketers, to ensure alignment with business objectives, user needs, and SEO goals.
Work with third-party APIs and integrations to enhance website functionality, user experience, and SEO capabilities.
Maintain clear and organized documentation of code, processes, and project specifications.
Qualifications:
Bachelor's degree in computer science, web development, or a related field (or equivalent work experience).
Proven work experience as a web developer or in a similar role.
Proficiency in web development technologies, such as HTML, CSS, JavaScript, and related frameworks/libraries (e.g., jQuery, Bootstrap).
Strong understanding of responsive design principles and cross-browser compatibility.
Experience with front-end development frameworks (e.g., Angular, React, Vue.js) and back-end languages/frameworks (e.g., PHP, Python, Node.js) is preferred.
Knowledge of web content management systems (CMS) and e-commerce platforms.
Familiarity with version control systems (e.g., Git) and web development workflows.
Understanding of SEO principles and best practices for web development.
Solid problem-solving skills and ability to troubleshoot technical issues.
Excellent attention to detail and ability to write clean, efficient, and maintainable code.
Strong communication and collaboration skills to work effectively in a team environment.
Ability to manage multiple projects and prioritize tasks to meet deadlines.
Salary Range : 80K to 120K
Health Insurance
Performance Benefit
Bonus
Please apply at office@hr-uk.com
View All Jobs In Pakistan:
Careerokay.com