Assistant Manager-HSE required at Pakistan Machine Tool Factory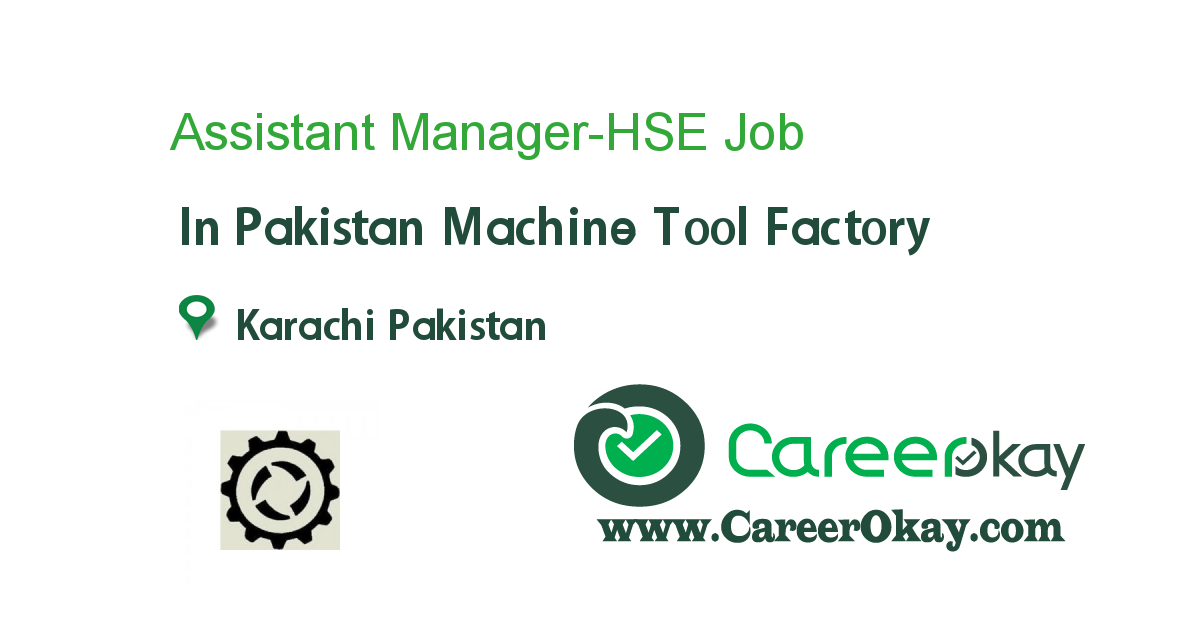 Location: Karachi - Pakistan
Salary: 80k - 110k ( PKR )
Experience: Student
Shift Timings: Morning Shift
Job Type: Full-Time
Description: AM-HSE is responsible for overseeing and promoting a safe and healthy working environment within the organization. The primary objective for this role is to prevent workplace hazards / accidents, injuries etc by implementing effective safety policies, procedures, and best market practices.
Qualification: Bachelor's degree (Enviromental Engineering /Industrial Engineering or any relevant degree)
Experience: 6+ years in the same capacity preferably in the engineering setup
Brief Responsibilities:
Developing and implementing health and safety policies that comply with relevant regulations and industry standards.
To establish guidelines for safe work practices and ensure their effective implementation across the organization.
To conduct regular inspections and risk assessments to identify potential workplace hazards also to evaluate existing safety protocols and recommend improvements to mitigate risks and prevent accidents. This may involve analyzing machinery, equipment, facilities, and work processes to ensure they meet safety standards.
To design and conduct internal trainings/ awareness sessions to educate employees on safety procedures, emergency response, and the proper use of protective equipment and ensure that all employees are aware of the potential hazards and equipped knowledge to prevent accidents or respond appropriately in case of emergencies.
To conduct incident investigation and reporting of accident, injury, or near-miss incident, the manager leads investigations to determine the root causes and implement corrective measures also to maintain accurate records of incidents, injuries, and safety-related data and prepare reports for management, regulatory agencies, and insurance purposes.
To ensures that the organization complies with all relevant health and safety laws, regulations, and industry standards. They stay updated on changes in regulations and proactively implement necessary changes to maintain compliance.
To establish safety committees or work with existing committees to foster a culture of safety within the organization.
To facilitate and regular communication on safety-related matters, conduct safety meetings, and provide guidance to supervisors and employees regarding safety issues and best practices.
To conduct regular safety audits and inspections to monitor compliance with safety protocol and identify the areas for improvement, track safety performance indicators, and recommend corrective actions to enhance the effectiveness of safety programs.
To collaborate with employees at all levels to promote healthy and Safety Culture working, coordinate with legal department to address safety-related concerns.
View All Jobs In Pakistan:
Careerokay.com