Sales and Business Development Specialist - Executive required at Cartel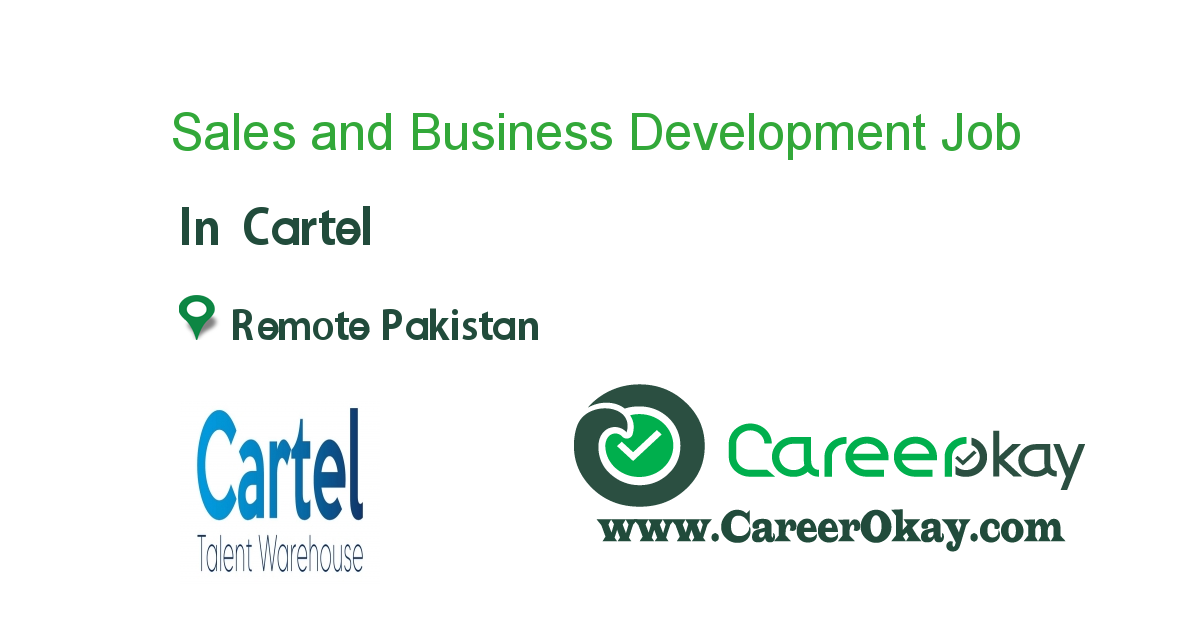 Location: Remote - Pakistan
Salary:
Experience: 5 Years
Shift Timings: On Rotation
Job Type: Full-Time
Description: Salary: Base Salary + Commission
Location: Location independent, %100 Remote
Minimum Sales and Business Development Experience within IT Recruitment Sales-Business Development: 4 years
Cartel is a talent Warehouse Platform built by Employee Experience Experts. In a Competitive Talent Landscape and challenging Great Resignation, we would like to answer to Talent Shortage. With 100s of talents in our platform, we are delivering talent and employee experience solutions through our platform. We are helping companies to hire and onboard remote IT talents.
We are looking for our future leader in Sales and Business Development. The Person should have a proactive attitude toward sales with an execution focus. The Sales and Business Development team works together with the Head of Operations and the Customer Success Team. Here is what we are offering:
- This position is a remote position that allows you to work wherever you want to upon agreement.
- Being helpful is one of our cultural codes, you will always find people to come to you when you are in need.
- A generous Bonus package along with a base salary,
- Perks and discounts from Network,
- Career and Progress opportunity - Chance to become Sales Director
- Flexible working time
%100 Remote
What you bring to the table:
- Success Focused sales experience,
- Team working attitude,
- Familiar with Sales Measure and Metrics,
- Adaptive to Sales Plan changes and leads the changes,
- Minimum B2 level (Written - Oral) English
The most important competency for this position is expertise in IT Recruitment and Remote Recruitment Business Development!
Nice to have (not must)
- Marketing Background
- Arabic, French or German language
Here are the responsibilities and percentage of work:
Sales -%50: The main activity is Sales and Deal Closing. Customer Lead, Outreach, and Deal closing are part of Sales. Increasing the Revenue from each account is also the responsibility of the Sales Lead and Customer Success Team.
Business Development %40: Revenue target metrics, evaluate the plan and Profitability analysis are part of this responsibility.
Marketing and Social Media %10: Using Social Media to increase Sales, suggest campaigns to target customers, and suggest social media activities are part of this work.
The position is remote and we are looking forward to applications from all over the world. Should you have questions about the position, do not hesitate to contact us at: muharrem.dogan@hicartel.com
View All Jobs In Pakistan:
Careerokay.com