Call Center Sales Closer required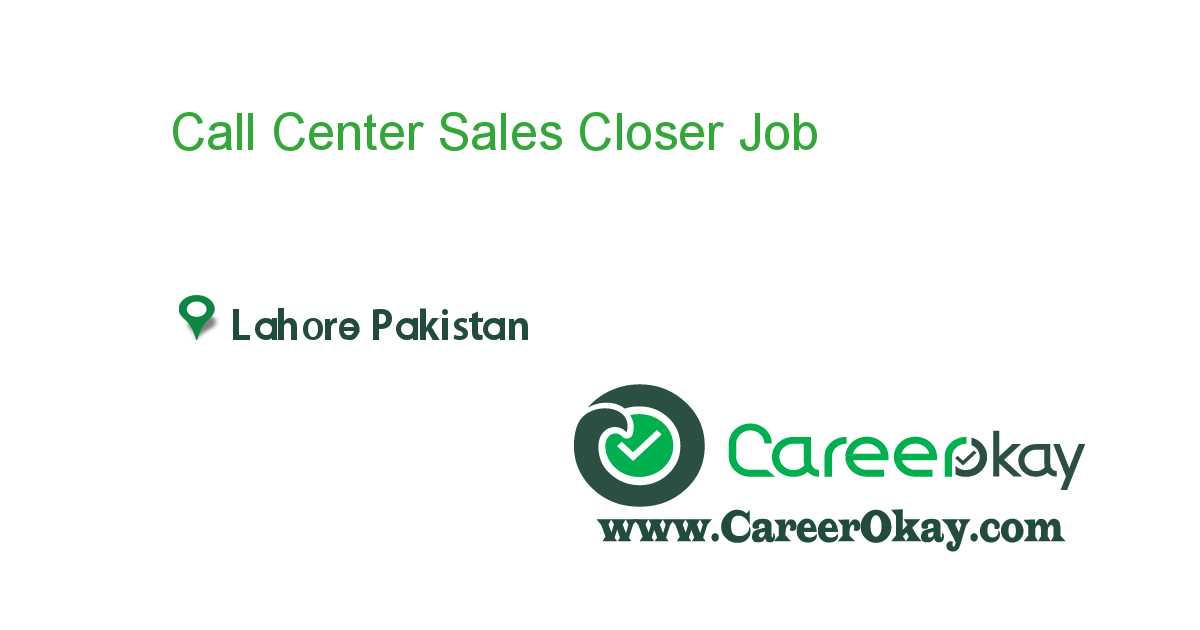 Location: Lahore - Pakistan
Salary:
Experience: 2 Years
Shift Timings: Night Shift
Job Type: Full-Time
Description: As a Call Center Sales Closer, your primary objective is to drive revenue growth and meet or exceed sales targets by successfully closing sales over the phone. You will be responsible for handling outbound sales calls, engaging with potential customers, and persuading them to make a purchase or commit to a specific product or service. Your role is crucial in converting leads into loyal customers and contributing to the overall success of the sales team and the company.
Responsibilities:
1. Outbound Sales Calls: Initiate outgoing calls to prospective customers from provided leads lists or databases.
2. Pitching Products/Services: Present products or services to potential customers, highlighting their features, benefits, and value proposition.
3. Overcoming Objections: Address any concerns or objections raised by potential customers and provide persuasive responses to close the sale.
4. Building Rapport: Establish and maintain a positive and professional relationship with customers, creating a sense of trust and credibility.
5. Closing Techniques: Utilize various closing techniques and sales strategies to secure sales and achieve individual and team targets.
6. Achieving Sales Targets: Consistently meet or exceed daily, weekly, and monthly sales quotas set by the sales management.
7. Follow-Up: Conduct follow-up calls to customers who showed interest but didn't make an immediate purchase, nurturing leads and potential sales.
8. CRM Usage: Record detailed and accurate information about customer interactions, sales progress, and outcomes in the company's CRM system.
9. Product Knowledge: Stay well-informed about the company's products or services, their specifications, pricing, and any promotional offers.
10. Collaboration: Coordinate with the sales team, lead generation team, and other departments to optimize the sales process and enhance customer satisfaction.
11. Continuous Improvement: Seek feedback from team leads or supervisors, participate in training sessions, and continually improve sales techniques.
Qualifications:
1. Sales Experience: Prior experience in outbound sales or telesales is highly desirable, preferably in a call center or similar environment.
2. Communication Skills: Excellent verbal communication skills to deliver persuasive sales pitches and handle objections effectively.
3. Persuasion and Negotiation: Demonstrated ability to influence and negotiate with potential customers to close sales successfully.
4. Goal-Oriented: Strong determination to achieve and exceed sales targets, with a results-driven mindset.
5. Resilience: Able to handle rejection and persistently pursue sales opportunities with a positive attitude.
6. CRM and Technology Proficiency: Comfortable using call center software, CRM systems, and other sales-related tools.
7. Product Knowledge: Quick learner with the ability to grasp product details and convey them convincingly to customers.
8. Time Management: Excellent organizational skills to manage time efficiently and handle multiple leads simultaneously.
9. Team Player: Willingness to collaborate with team members and contribute to a cooperative work environment.
10. High Energy: Enthusiastic and energetic personality, projecting passion for sales and customer satisfaction.
View All Jobs In Pakistan:
Careerokay.com