Production Pharmacist required at Glitz Pharmaceuticals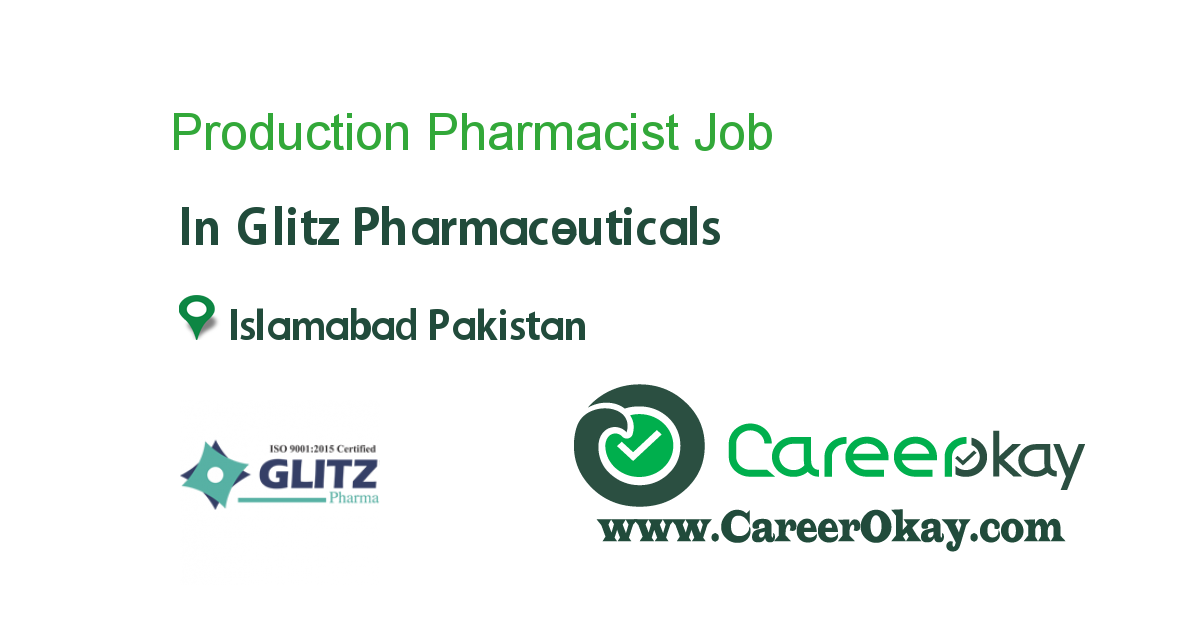 Location: Islamabad - Pakistan
Salary: 22k - 40k ( PKR )
Experience: 1 Year
Shift Timings: Morning Shift
Job Type: Full-Time
Description:
Position Overview:
The Production Pharmacist is responsible for overseeing and managing the pharmaceutical production process within a manufacturing facility. This role involves ensuring the production of high-quality pharmaceutical products that adhere to regulatory standards and meet customer demands. The Production Pharmacist plays a vital role in maintaining efficient operations, ensuring compliance with Good Manufacturing Practices (GMP), and contributing to the overall success of the organization.
Key Responsibilities:
Coordinate and manage the production process, including planning, scheduling, and monitoring of manufacturing activities.
Ensure adherence to production timelines and targets, ensuring efficient utilization of resources.
Supervise and guide production staff, ensuring adherence to safety procedures, quality standards, and productivity goals.
Monitor and analyze production data, identifying areas for improvement and implementing corrective actions to optimize efficiency.
Quality Assurance:
Ensure compliance with regulatory requirements, including GMP guidelines, in all production activities.
Perform regular audits and inspections to verify adherence to quality standards and identify areas for improvement.
Collaborate with the Quality Assurance team to establish and maintain effective quality control measures, including reviewing and approving batch records and other documentation.
Investigate and resolve any production-related deviations, non-conformities, or product complaints.
Documentation and Reporting:
Prepare and maintain accurate production records, batch documentation, and other required reports.
Ensure proper documentation of production processes, changes, and updates to comply with regulatory standards.
Generate reports on production performance, including metrics such as production volumes, yield, and quality indicators, providing regular updates to management.
Continuous Improvement:
Stay updated with industry trends, regulatory changes, and advancements in pharmaceutical manufacturing practices, incorporating relevant knowledge into production processes.
Collaboration and Communication:
Collaborate closely with cross-functional teams, including R&D, Quality Control, Supply Chain, and Engineering, to ensure effective coordination and execution of production plans.
Communicate production-related updates, issues, and recommendations to management and other stakeholders.
Foster a culture of teamwork and open communication within the production department, promoting a positive work environment.
Qualifications and Requirements:
Bachelor's or Master's degree in Pharmacy or a related field. A Pharm.D. degree is preferred.
Relevant experience in pharmaceutical manufacturing or production, preferably in a regulated environment.
Strong knowledge of Good Manufacturing Practices (GMP) and regulatory requirements.
Familiarity with quality control processes, documentation practices, and quality management systems.
Excellent organizational and time management skills with the ability to prioritize tasks and meet deadlines.
Analytical mindset with attention to detail, ensuring accuracy and compliance in all aspects of production.
Strong leadership and interpersonal skills to effectively supervise and motivate production teams.
Excellent communication and presentation skills, both verbal and written.
Proficiency in using production management software, Microsoft Office Suite, and other relevant tools
View All Jobs In Pakistan:
Careerokay.com