Marine Cargo Surveyor required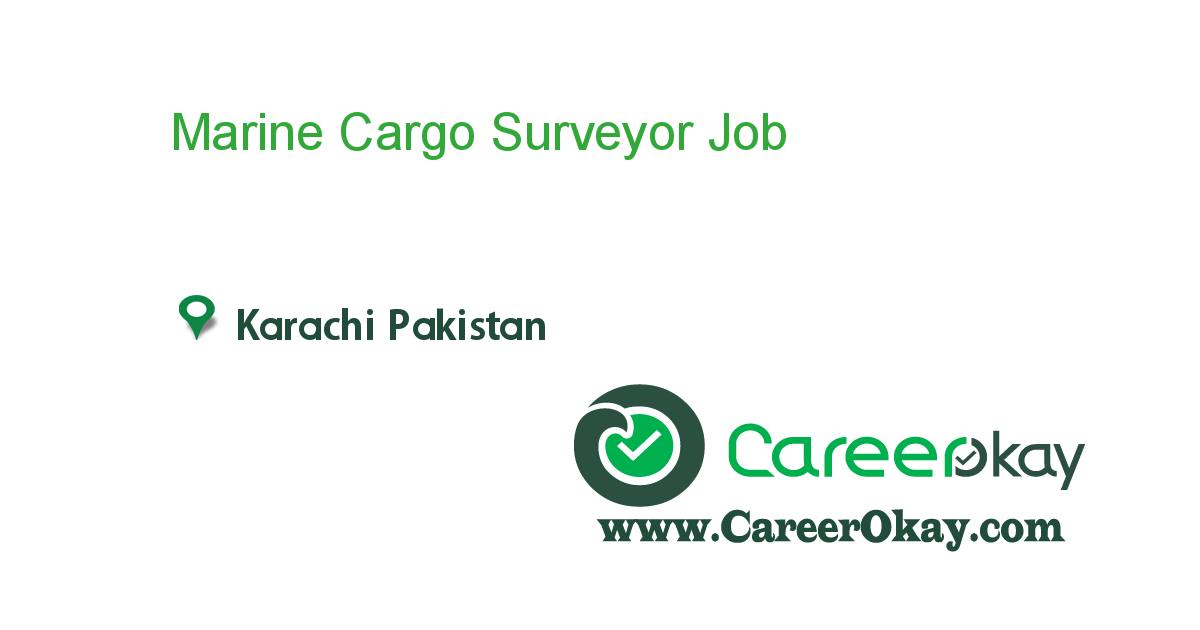 Location: Karachi - Pakistan
Salary: 25k - 0 ( PKR )
Experience: 2 Years
Shift Timings: Morning Shift
Job Type: Full-Time
Description:
We are seeking a highly skilled and experienced Insurance Surveyor/inspector specializing in Marine Cargo to join our team at S M Saeed Associates Pvt ltd. As an Insurance Loss Assessor Surveyor, you will play a pivotal role in assessing and negotiating insurance claims related to marine cargo, ensuring fair compensation for our clients. This is an exciting opportunity to leverage your expertise in insurance surveying and shipping line surveying and contribute to the success of our organization.
Responsibilities:
Conduct thorough assessments of marine cargo losses and damages, including inspections, investigations, and analysis of supporting documentation.
Determine the cause and extent of loss or damage to cargo during transit, considering factors such as rough handling, improper packaging, accidents at sea, theft, or other relevant factors.
Evaluate the applicability of insurance coverage and policy terms to specific marine cargo claims.
Prepare and submit comprehensive insurance claims to insurance companies on behalf of our clients, ensuring accuracy and adherence to regulatory requirements.
Liaise with surveyors, cargo experts, and other professionals as necessary to support the claim assessment process.
Review and analyze bills of lading, packing lists, shipping contracts, and other relevant documentation to gather critical information.
Calculate the value of the loss or damage, considering market prices, depreciation, salvage values, and other relevant factors.
Negotiate fair settlements with insurance companies on behalf of our clients, ensuring they receive proper compensation for their marine cargo losses.
Provide expert guidance and advice to clients throughout the claims process, addressing their concerns, and managing expectations.
Stay up-to-date with industry regulations, laws, and best practices related to marine cargo insurance and claims handling.
Requirements:
Bachelor's degree in a relevant field (e.g., Maritime Studies, Insurance, or a related discipline) or BTECH

Must have proven experience as an Insurance Surveyor, Marine Cargo Surveyor, or Shipping Line Surveyor, with a focus on assessing and handling insurance claims.
In-depth knowledge of marine cargo insurance policies, coverage terms, and claim procedures.
Familiarity with the maritime industry, including shipping practices, cargo handling, and relevant regulations.
Strong analytical skills with the ability to assess and evaluate complex claims and documentation.
Excellent negotiation and communication skills, with the ability to advocate for clients and maintain positive relationships with insurance companies.
Detail-oriented approach, ensuring accuracy in claim assessments and documentation.
Proficient in using relevant software and tools for claim management and reporting.
Professional certifications or designations in insurance surveying or related fields would be a plus.
Ability to work independently, manage multiple tasks, and meet deadlines.If you are a dedicated and experienced Insurance Loss Assessor
Surveyor with expertise in marine cargo claims, we invite you to apply for this challenging and rewarding position. Join our dynamic team at S M Saeed Associates Pvt ltd and contribute to our continued success in providing exceptional service to our clients in the marine cargo insurance industry.
Note: Please read the requirement and responsibilities before applying.
To apply, please submit your resume and cover letter highlighting your relevant experience and qualifications at career@smsaeed.com
S M Saeed Associates Pvt ltd is an equal opportunity employer. We value diversity and encourage individuals from all backgrounds to apply.
View All Jobs In Pakistan:
Careerokay.com