Accountant (Experienced Associate) required at GBS Accountants & Advisors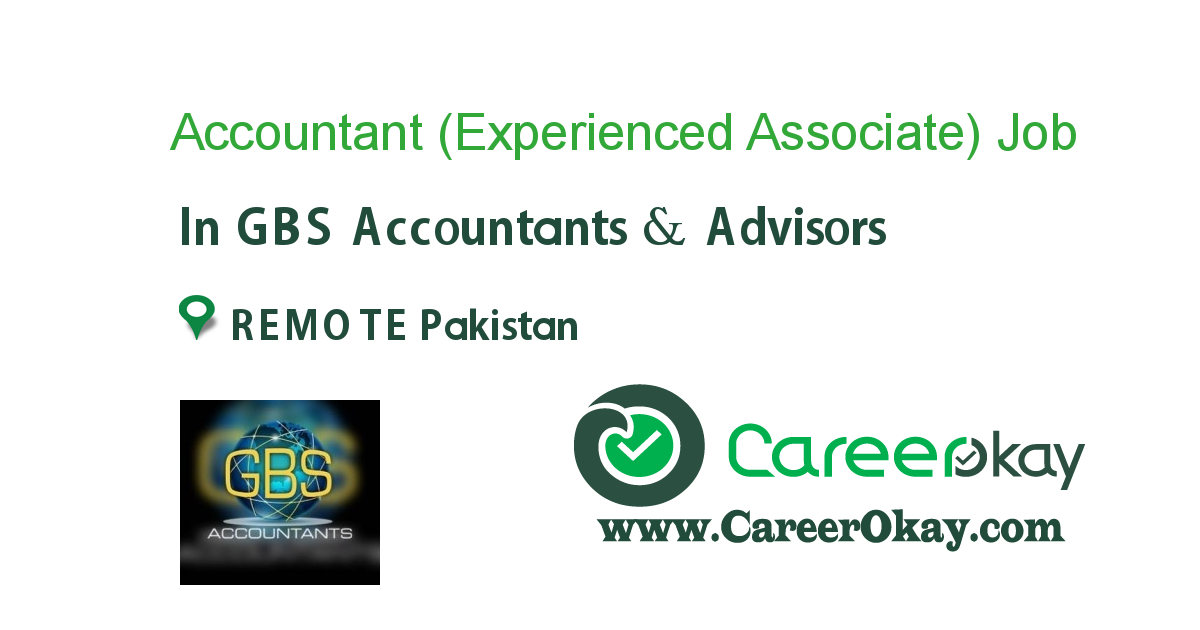 Location: REMOTE - Pakistan
Salary: 100k - 150k ( PKR )
Experience: 2 Years
Shift Timings: Morning Shift
Job Type: Full-Time
Description:
Position: Accountant (Full Time )
Job Objective
To perform a wide range of accounting duties, including the preparation of Financial Statements and Income Tax Returns for individuals, partnerships, trusts, and companies for small business entities.
Individual Qualities
Passionate about helping clients make smart financial decisions.
Demonstrates integrity and professional competence to earn trust in relationships with clients and colleagues.
Empathetic listener who asks good questions and adapts communication accordingly.
Proactive with a desire to get things done.
Motivated by achieving results.
Willingness to develop skills independently or from trainers.
Currently studying for a Bachelor of Commerce, Bachelor of Economics, or Bachelor of Business degree.
Leading Self
Manage workflow in a timely manner.
Follow systems and processes.
Read and take instructions.
Responsibilities and Performance Measures:
Leadership & Teamwork
Positive role model of the firm's values and culture.
Open to change and adapts flexibly.
High ethical and corporate standard with responsibility for own actions.
Committed to personal growth and seeking feedback on soft and technical skills.
Collaborative and ongoing communication with the team.
Contributes positively to the firm's culture.
Client Service
Work completed within agreed timeframes.
Engages positively with colleagues to deliver high-quality client service.
Technical Skills and Knowledge:
Preparation of Income Tax Returns with an understanding of essential tax laws.
Basic Capital Gains calculations for investment assets.
Preparation of Financial Statements and Income Tax Returns for small business entities.
Reconciliation and preparation of work papers to confirm balance sheet items.
Maintenance of depreciation/asset schedules.
Reconciliation of hire purchase liabilities.
Error-free work that is correctly referenced.
Completion of small compliance tasks for small business entities.
Proficient in accounting platforms such as Xero, Xero Tax, iFirm, and Excel.
Business Management
Participates in firm activities.
Contributes to achievement of Business Unit budget.
Meets agreed delivery dates for completion of work.
Commits to quality control in work prepared.
Strong ethical and moral practice.
Business Sustainability
Understands and supports the vision and strategic direction of the firm.
Demonstrates innovative thinking.
View All Jobs In Pakistan:
Careerokay.com