Deputy Site Coordinator required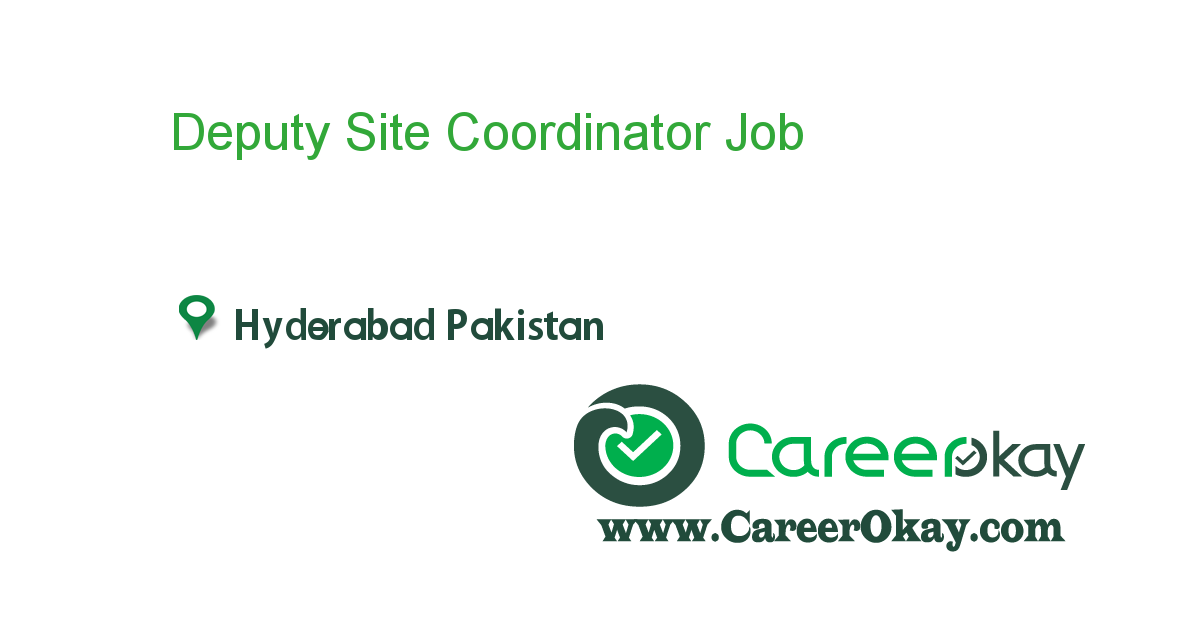 Location: Hyderabad - Pakistan
Salary:
Experience: 4 Years
Shift Timings: Morning Shift
Job Type: Full-Time
Description:
POSITION CODE

HRD-PC/TD-184
PROJECT/DEPARTMENT

endTB Clinical Trial
REPORTING TO

Site Study Coordinator
EMPLOYMENT TYPE

Contractual
LOCATION

Hyderabad, Pakistan.
JOB PURPOSE
The incumbent will facilitate and oversee daily Clinical Trial activities and play a critical role in the conduct of the study to ensure compliance, study protocol and all applicable regulatory requirements. He/She will work closely with all relevant institutions and supervise activities of departments involved in Clinical Trial implementation at site level.

RESPONSIBILITIES
Support in preparation of documents to obtain study approval from all local relevant authorities, including drug license importation
Review and ensure conformity with local requirements and Good Clinical Practice (GCP) requirements all trial documents relevant to the site, including the study protocol, the patient information leaflet, informed consent form (ICF) etc.
Manage translations, as required
Participate in recruitment of site staff
Manage contracts with vendors
Ensure completion of logistical preparation for the trial site
Ensure that all study staff is trained according to the protocol, operating procedures and GCP
Ensure with the pharmacist that study drugs will be available at dispensing site according to trial schedule, are stored according to trial standards and that drug accountability is organized on recruitment site and at the pharmacy
Ensure that quality assurances are in place according to the requirements from the laboratory coordinator for TB laboratories and with other laboratories for clinical lab tests
Initiate the Investigator Site File (ISF) and ensure that all essential documents to start the recruitment
Provide support to clinical investigators with subject recruitment in accordance with protocol, effective SOP, GCP and applicable regulatory requirements
Collaborate with the internal monitor to ensure that site staff is compliant with GCP , applicable regulations, particularly in ethical issues and in agreement with protocol and effective SOPs
Monitor study progress and prepare monthly progress report
Ensure that any new staff hired after study initiation is been trained in GCP and study protocol
Ensure data is recorded, handled, stored and reported accurately and promptly and confidentiality is maintained
Provide patient data (collected in eCRF, SAEs and other notifiable events) and screening log to central research team and external monitor or any audit, when required
Coordinate study visits for all study participants
Supervise study nurses, treatment supporters, data manager and other site positions essential to the implementation of the endTB clinical trial
Be in constant communication with the Site Principal Investigator (PI), Central Study Coordinator and the central research team for:
Study update
Safety issues
Any issue related to protocol deviation(s)
Any specific concern related to human specimen analysis
Any request of study related document amendment
REQUIRED KNOWLEDGE, SKILLS & ABILITIES (KSA)
Required Qualification

Minimum Bachelor's in Health Sciences, Social Sciences, or a closely-related field
Master's would be desirable.
Required Experience

Minimum of 4 years working in the health research field (advantageous).
Experience managing staff (advantageous).
Previous clinical trial or research experience (advantageous).
Experience working on MDR-TB patient clinical documents (advantageous).
Good Clinical Practices (GCP) training (advantageous).
Required Skills

Word and all other basic office software (essential).
Ability to work independently and show initiative.
Strong interpersonal and communication skills.
Ability to work in a multi-disciplinary team environment.
Time management and problem solving skills, excellent organizational skills to independently manage work flow.
Great attention to detail.

View All Jobs In Pakistan:
Careerokay.com